Being able to control pest pressure in a large-scale agricultural operation is of the utmost importance, as that has a direct impact on a company's bottom line. This becomes even more important when the crop is extremely valuable, such as cannabis. This is the reason why Fluence and InSpire have been collaborating in a series of webinars focused around environmental control for cannabis operations, with the last session specifically focused on IPM (integrated pest management), and IMM (integrated microbe management).
Jesse Porter with InSpire discussed the most important concepts around pest management and elaborated on the different ways in which this can be handled, and what the dynamics are between this and the rest of the operation.
"IPM starts with cultural control," Jesse explained. "That is, creating an environment where plants can thrive and bad bugs cannot." He further explains that after cultural control, there are also other steps to pest management: physical control, biological control, and finally chemical control.
As Jesse pointed out, the very first thing to address is the quality of the cannabis genetics, as these play a crucial role in starting off on the right foot. "One thing that is also generally overlooked is the cleaning of the water," he says. "I specifically refer to the recycled water, the standing water: it is critical to treat this properly and to irradiate it, otherwise it could develop water molds that become systemic. Start clean, stay clean, finish strong."
One of the other crucial aspects of pest management is positive identification: that is, being able to know good bugs from bad bugs, "otherwise you are going to kill the ones who are going to help you," Jesse points out. Therefore, Jesse advises to constantly scout with a microscope and to continuously keep a log of the environmental conditions, fertigation, and the water that gets into the cultivation space. "Everything is important to eradicate pests."
"We need to understand cultural control," Jesse remarked. "This is also about not allowing any microclimate to be created within the grow, thus preventing the development of pests such as powdery mildew and spider mites. To do that, for instance, you have to cycle the air every 3 minutes through a multi-stage filtration. Cultural control is about control, temperature, humidity, when the lights are on and off, and what happens during these transitions. Swings in temperature create the preconditions for powdery mildew to take control. To prevent that, it is crucial to manage the VPD throughout the growth through precision control, thus mitigating mildew issues."
Other than cultural control, there are other ways to handle pest pressure. Physical control, for instance, refers to literally removing the affected leaves from the plant. "To amputate and remove leaves at the initiation of the outbreak," Jesse specified. "Through this, it is possible to remove a significant amount of eggs. But be careful, because if you cut out too many leaves, then the plant's vitality is going to get affected."
Each of the ways in which pest pressure can be handled implies a series of modes of actions. "For instance, how are we going to physically kill them? Are we going to suffocate them? Or by affecting their nervous system? Or are we going to prevent them from multiplying, or from growing?" Jesse said. "On top of that, you have to take into account environmental considerations: that is, the impact of IPM on the environment and the impact of the environment on IPM. Temperature, humidity, just to name a couple, can have a tremendous impact on management efficacy. For instance, if you decide to use beneficial bugs, you need to create a habitat for them to thrive and breed."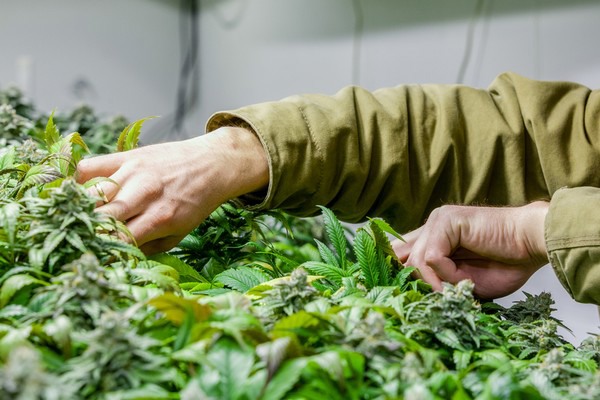 "Then, what are the application guidelines? How do I apply the product, what is the personal protective equipment I'd need? When do I apply it, where do I apply it? That is also why it is important to know when you can reapply the product, and the time that it takes for the resistance to occur in the bug, so that we know when to rotate the modes of action. That is, understanding how long it takes for these applications to be effective."
"Then there is the systemic acquired response, which is when we can trigger the plant's natural response so that it can fight back the pests. I like to use seaweed for instance, and not just because I find it delicious, but because it is filled with beneficial hormones that will help the plant trigger its natural defense mechanism. In reality, we are trying to prepare the plant for war at all times and allow the plant to defend itself."
And ultimately, we get to probably the most delicate part, which is the one about synergies. "How do the choices you make interact with each other, and how do they affect the plant? But especially, how do these choices affect the bottom line?"
Pest management plays a crucial part in the growth of the plants, but also on the environment, other than pests themselves. Therefore, as Jesse said, "control your culture, or it will control you. Consistent intervention leads to inconsistent results. All requires training, and misapplications might happen. Proper cultural control has no negative impacts on the plant and synergizes with every aspect of the cultivation. Cultural control is environmental control, which is the key to high quality harvest. If you don't have that, you will be battling pests."
Source: inspire.ag