Is it true that it is impossible for growers to successfully exist in the Canadian cannabis market? Is the US cannabis market easier to succeed in? Based on cannabis market research, Brightfield Group Managing Director Bethany Gomez shares what insights the recent industry data has to offer. "While we are seeing significant growth in both markets, the increasing competition is a challenge for companies." According to the data reports, what have been the recent market developments, and what are the prospects for the near future?
Canada: "A battleground for growers"
Gomez explains that there are two sides to the Canadian market. "On the one hand, there is a significant yearly growth of the market. In 2021, the overall Canadian cannabis market saw a 39% growth. Based on the numbers, we are expecting the market to double by 2027. A lot of this growth is related to the increased opening up of the Canadian market. When the market first opened, it was very restricted, concerning both the limited amount of product availability and the very small number of retail locations. Gradually the market has opened up. In 2019/2020, we saw a wider variety of cannabis products hit the market. Then in 2021, we saw an explosion of retailers open up, predominantly in Ontario and Quebec. These developments helped to drive the additional growth of the market."
However, the competition increased with the Canadian government handing out more and more cultivation licenses. "Especially concerning the craft/premium cultivation, the market is becoming increasingly competitive. This increasing number of players entering the Canadian cannabis market has made it very difficult for the large players, who have raised capital early on and had some of the first mover advantages, to really be able to capitalize on that and outperform the market. What we are seeing is that their sales have largely been flat or are potentially declining, as there are more of these disruptor brands are coming in. This has made the Canadian market a battleground for cannabis growers."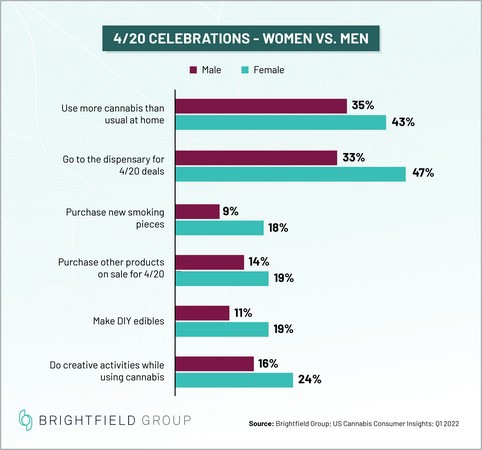 Brightfield also held a survey in advance of this year's 4/20 celebration. "It is interesting to see that the state of the cannabis consumer base has shifted: now, women make up more than 50% of the consumers. Moreover, consumers have become more price sensitive and were thus eager to take advantage of the 4/20 deals."
US: High expectations
With more and more states legalizing cannabis, the market continues to expand across the US, and there are high expectations for the near future. "In 2021, the market had about $26 billion in sales. Over the years, there has been a consistent 15-20% yearly growth. By 2026, we are expecting the market to hit $50 billion. That is even a relatively conservative calculation, not taking into account the consequences of the possible federal legalization. The market is very strong, and a lot of the recent growth is coming from popular states opening up their adult-use markets, such as Illinois and Massachusetts. The state of New York, which has legalized but is not yet online, is expected to have a very significant contribution to the industry."
With already a couple of months behind them, the rest of 2022 is expected to be an exciting year for the US cannabis industry, according to Gomez. "While progress has been slower than anticipated with the Democratic government, it is exciting to see the discussion of cannabis decriminalization rise to the levels of the Senate and House of Representatives. Moreover, this year is an election year, meaning that there will be a large number of states having cannabis included on the ballot. In 2020, every state that had cannabis on the ballot passed it, which had never happened before. With cannabis becoming more and more widely accepted, it will be interesting to see what happens for the industry this election year."
Yet there is an expected change in US consumer purchasing habits that will affect the sales. "With the government's pandemic-related subsidies being cut off at the end of last year, consumers will become more price-sensitive this year. Combine that with the inflation, and we are expecting the consumer spending level to return to pre-pandemic levels. Still, with the overall market growth, overall US sales are expected to grow considerably this year."
For more information:
Brightfield Group


www.brightfieldgroup.com